Take an Eco-Friendly Metro Detroit Car to Your Destination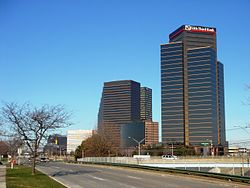 There are plenty of reasons why people need a Michigan car. Maybe you prefer not to drive wherever you're going. Perhaps you've opted not to own a car. You may be temporarily in town and rather hire a car than use a rental in an area that is unfamiliar to you. The motivation behind needing a car will vary from person to person, but there is one thing that many people do have in common – the desire to minimize their carbon footprint. Southfield ride service Michigan Green Cars will help you do that. Our eco-friendly business is utilizing a fleet of hybrid technology vehicles to save the planet, one ride at a time.
Why Use Michigan Green Cars?
Anyone who has ever taken a car has a horror story to tell: The car was filthy. You could smell the exhaust in the backseat. The driver was unfriendly. I thought we were going to crash. Not only is Michigan Green Cars the Southfield ride of choice for so many, the experience of riding in an eco-friendly car carries through the entire journey. From the cheerful hello of your driver to the spotless cars, inside and out, to the hybrid journey you take from point A to point B, the trek in a Michigan Green Cars vehicle is unlike any other. And you're doing good for the planet by hailing this Southfield car as your ride.
What Makes This Southfield Ride Service Different?
You can see Michigan Green Cars coming and going in our white cars with green details, but what sets us apart from other Southfield ride services is our hybrid technology vehicles and first-rate service:
Our fleet of cars saves 1.2 million gallons of fuel every year.
Our rides reduce pollution and green-house emissions by 70 percent compared to conventional vehicles.
Partial zero-emission fleet of new and clean vehicles.
Save 67 percent of the fuel consumed by typical vehicles through innovative hybrid technology.
Uniformed, safe, professional drivers.
Mobile electronic dispatch and security systems.
24/7 global positioning and fleet tracking for safety.
As the area's premier and original hybrid transportation provider, Michigan Green Cars' standards are high. Our company-wide service and the work of our drivers fulfill the high expectations that our customers have and that we have for ourselves.
It is also important to note that Michigan Green Cars is fully licensed in Michigan and authorized to provide transportation services statewide. We carry a minimum of $1 million insurance coverage on all vehicles and easily meet safety inspection requirements and vehicle maintenance demands.
With a 24/7 service, Michigan Green Cars is the Southfield car service of choice from door to door, office to office, airport to hotel, or wherever you are going.
Places You Will Find Michigan Green Cars
By covering two primary markets, Michigan Green Cars is able to get our customers to a wide range of destinations. Our South East and Ann Arbor fleets cover all area airports and surrounding communities. As a Southfield ride service, Michigan Green Cars provides transportation services to the following areas:
Oakland County
Livingston County
Macomb County
Ann Arbor
Willow Run Airport
Downtown Detroit landmarks and events
Eco-Friendly Southfield Car Takes You to Your Next Destination
It is the goal of Michigan Green Cars to thrive as a business while providing the services to our customers that we have promised: A smaller environmental impact and a bigger economic impact. For every Michigan car we deploy, we create three new full-time jobs and one or two new part-time positions. Our statewide fleet of cars will create 400 permanent new positions for displaced Michigan workers.
Hybrid technologies, electronic dispatch, and experienced drivers complete our proactive commitment to improving our environment while elevating our level of customer service. Make your next Southfield car ride a green ride. Book Michigan Green Cars online, through our mobile app, or via phone.