The Eco-Friendly Ann Arbor Ride Service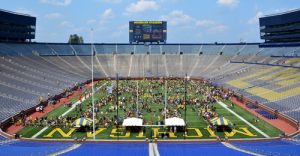 You might need an Ann Arbor Car whether you're traveling to, through, or away from Ann Arbor. It always feels better to arrive at your destination without expanding your carbon footprint along the way. Michigan Green Cars serves Ann Arbor and the surrounding metropolitan area, operating a fleet of hybrid technology vehicles that save fuel and reduce pollution and greenhouse gas emissions.
Notice a Travel Difference with Michigan Green Cars
Traveling in an eco-friendly vehicle helps passengers feel like they're improving the planet rather than mindlessly contributing to the rampant pollution that plagues the globe. It is our intention at Michigan Green Cars to offer transportation that stands out above other Ann Arbor car services, not only for our hybrid technology vehicles, but also for our five-star service.
If you choose to travel in one of our white and green cars, you'll be enjoying a ride in a vehicle that is:
New, immaculate, and safe
Partial zero-emission
Fuel-conserving
Pollution reducing
Operated by a professional, uniformed driver
Together, our fleet of cars saves 1.2 million gallons of fuel annually while reduce pollution and emissions by 70 percent in comparison to conventional vehicles.
Reach Your Destination with an Ann Arbor Car
Many a visitor to the city of Ann Arbor, Michigan, is looking to find their way to the University of Michigan. As a premier research university in the nation, U-Mich employs thousands of workers, has a thriving student body, and hosts many guests, alumni, and professionals.
Michigan Green Cars Ann Arbor has been competitively awarded as a Strategic Vendor Partner for the University of Michigan as a Ride Service. Vendor ID 0000595569. This award makes negotiated discounts available to all Schools and Departments within the University system including UMHS. Account billing is available to all UM departments. Individuals traveling with or for the University of Michigan can also take advantage of the University rates.
Nearby metro Detroit is of course known for its multiple industries, landmarks, and recreational areas. The Great Lakes, Fortune 500 companies, professional sports teams, and of course the automotive history of Detroit and its suburbs draw visitors day in and day out – and many of them need to get to where they're going in an eco-friendly ride.
Michigan Green Cars provides transportation service to the areas and communities surrounding Ann Arbor, including:
Willow Run Airport
Southfield
Downtown Detroit
Macomb County
Livingston County
Oakland County
High Safety Standards from Ann Arbor Car Service
Michigan Green Cars has high standards, and the safety and satisfaction of our customers is a top focus. With mobile electronic dispatch, security systems, and 24/7 global positioning and fleet tracking, you will know that you are a safe and secure passenger in any one of our eco-friendly vehicles.
Fully license in Michigan and authorized to provide statewide transportation services, our company carries a minimum of $1 million in insurance coverage on all vehicles. Our hybrid technology vehicles easily meet safety inspection requirements and are rigorously maintained for safety.
Hire the Ann Arbor Ride Service of Choice: Michigan Green Cars
Offering around-the-clock service, Michigan Green Cars is the Ann Arbor car service you can depend on for all your transportation needs. Whether you want to motor around the Ann Arbor city limits, or whether you need a ride to another transportation center to make your way out of town, our green ride  service will reduce your environmental impact and take you where you want to go.
Hybrid technology combined with experienced and courteous drivers sets Michigan Green Cars apart from other Ann Arbor car services. We are committed to reducing our carbon footprint on our precious environment while offering each customer a flawless level of service. Choose our Ann Arbor fleet for your next ride. Book Michigan Green Cars quickly and conveniently through our mobile app, online, or via phone.